An Environment for Collaboration
Encouraging Interaction
CORE's amenities have been planned for cross-collaboration between personnel and between companies. They include:
Parks, trails and boardwalks
Event spaces
Outdoor meeting areas
On-site town center
Regional Resources
Lakewood Ranch is a 31,000-acre master-planned community that offers businesses the location, infrastructure and opportunities to grow to their fullest potential. Now the best-selling multi-generational community in the country, it's the largest job center in Sarasota and Manatee counties. Currently home to over 1,500 businesses and counting, Lakewood Ranch is primed for growth for years to come.
The Green
The Green is a 37-acre town center within CORE, featuring more than two dozen businesses in 150,000 square feet of retail, office and restaurant spaces.
Community Partners

Lakewood Ranch Business Alliance

Bradenton Area and Sarasota County Economic Development Organizations

Manatee and Sarasota Associations of Realtors
Do Business at CORE
CORE is looking for a specific mix of innovative entrepreneurs and established leaders. For more information or for details about available business opportunities, contact us at Lakewood Ranch Commercial.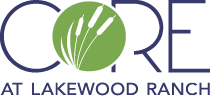 Lakewood Ranch Commercial
14400 Covenant Way
Lakewood Ranch, FL 34202
Phone Number
941-907-6677
Contact Us