Community
CORE at Lakewood Ranch reinforces the benefits of the high-tech hub as an economic engine and community asset.
An Environment for Collaboration
CORE at Lakewood Ranch was created to be a world-class research environment for collaboration and innovation. At every turn, there are amenities, parks and features meant to bring different companies and their employees together to talk, brainstorm and discover.
Internal Collaboration
Within CORE are a series of trails, pathways and boardwalks that offer respite and seating to encourage casual interaction as well as collaboration opportunities. There are also several outdoor activity zones along these walkways set aside specifically for ongoing and special events.
Community Collaboration
Given its close proximity to the Tampa Bay and St. Petersburg areas, the Campus has access to major international and local airports as well as personnel support. This is all in addition to the 20,000+ residents living within the surrounding community of Lakewood Ranch.
Funding
A key factor for growing businesses is our collaborative environment and strategic thinking fostered by the public and private sectors. Our seamless partnerships with local governments, partner agencies and the State of Florida make working within CORE easy.
Community Partners

Lakewood Ranch Business Alliance

Bradenton Area and Sarasota County Economic Development Organizations

Manatee and Sarasota Associations of Realtors
Do Business at CORE
CORE is looking for a specific mix of innovative entrepreneurs and established leaders. For more information or for details about available business opportunities, contact us at Lakewood Ranch Commercial.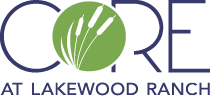 Lakewood Ranch Commercial
14400 Covenant Way
Lakewood Ranch, FL 34202
Phone Number
941-907-6677
Contact Us