Sustainability
Sustainable development practices are our priority. CORE implements the most innovative practices in respect to wetland preservation and enhancement, low-energy building design and site development strategies.
Environmental Surroundings
Lakewood Ranch is well-known for its high-quality landscape and natural Florida aesthetic. We intend to emulate and extend the same environmental characteristics throughout the Campus. Special attention will be placed along streetscapes, plazas, parks and trails.
Building and Architecture
The different development zones are unified with dedicated, multipurpose paths and trails that circumnavigate the entire perimeter of the Campus. This pedestrian and bicycle network mirrors the comprehensive system developed throughout the entire Lakewood Ranch community.
Natural Setting and Capabilities
The open space plan is an important element of CORE's identity. It is designed to be a comprehensive network of parks that link each of the major development zones throughout the Campus. This open space system depends on a series of greenways and courtyards that offer a natural setting while preserving existing wetlands.
Heritage and Legacy of Responsibility
For the last century, Schroeder-Manatee Ranch, Lakewood Ranch's parent company, has protected and preserved the surrounding environment. Their exemplary planning and care are clearly reflected in the thriving, vibrant property and acres of stunning natural landscapes.
DISCOVER OUR HERITAGE
Character & Commitment
Preservation and suitability have been, and continue to be, our commitments to the community. We inherited a legacy of caring for the land from those who came before us and, as a result, Lakewood Ranch now thrives on turf and tree farming, ranching and agriculture.
LEARN MORE
Do Business at CORE
CORE is looking for a specific mix of innovative entrepreneurs and established leaders. For more information or for details about available business opportunities, contact us at Lakewood Ranch Commercial.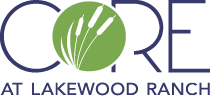 Lakewood Ranch Commercial
14400 Covenant Way
Lakewood Ranch, FL 34202
Phone Number
941-907-6677
Contact Us