Brain Health Initiative Innovation
Lab is Planned for CORE
CORE is located within Lakewood Ranch, a thriving, multi-generational community that is now at the epicenter of groundbreaking neurological research.


The Academy for Brain Health and Performance and Massachusetts General Hospital, a Harvard Medical School teaching hospital, recently selected Lakewood Ranch for a decades-long brain health study.
Researchers are also planning a Brain Health Innovation lab within the CORE campus. The lab will server as a space where global innovators, entrepreneurs and investors can come together to validate brain health solutions and evaluate innovations for commercialization purposes.
Learn More
Do Business at CORE
CORE is looking for a specific mix of innovative entrepreneurs and established leaders. For more information or for details about available business opportunities, contact us at Lakewood Ranch Commercial.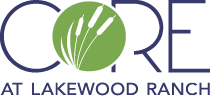 Lakewood Ranch Commercial
14400 Covenant Way
Lakewood Ranch, FL 34202
Phone Number
941-907-6677
Contact Us